I have a confession.
Pretty much every purchase now a days is a cover-buy.
I can't help it, I just have a weakness for pretty bookshelves and something gushy melts inside me when I see a gorgeous YA cover and I just have to buy it.
But I thought I'd go over some of the books that I bought because of the cover and ended up loving. Ones that I wasn't expecting to adore, but just did.
---
Book 1) Strange The Dreamer
I've not even finished this book, I'm about half way through the audio copy but I just know it's a favourite already. I've always dreamt of owning the UK hardcover of this gorgeous beauty and when Illumicrate produced a new special edition, I was all *grabby hands*.
Book 2) Shatter Me
Now one of my greatest loves, Shatter Me was a total cover buy back in the days where I'd first found BookTube and all the fads it brought. I knew nothing but the fact that I was in love with the art on the cover and I ended up buying the whole trilogy in one go. It was quite possibly the best decision I ever made, and this series is a huge part of the reader I am today.
Book 3) Red Queen
Another YA classic on my list, one that I bought on impulse when I was thrown into the world of the book lovers, even though I knew next to nothing about it. Now I go immediately for every book with elemental powers and this book is probably the main reason for that.
Book 4) This Mortal Coil
When the author herself stated how excited she was that her debut book had an exploding brain on the front, I was hooked. It was in my shopping cart before I even knew what was happening, and was my top read of 2017 despite its late release in October. I read it in one sitting and I still can't stop thinking about it.
Book 5) Starfish
I'm not a huge contemporary reader. I never have been, and I don't expect that to change any time soon. Sure, my shelves carry the obligatory Rainbow Rowell and Morgan Matson – but I was just as surprised as anyone that I absolutely fell for Starfish. After an impulsive purchase (purple is my weakness, okay?) I figured I was in the mood for something different than my usual read and here I am 2 years later and still hooked. Akemi's writing is godly.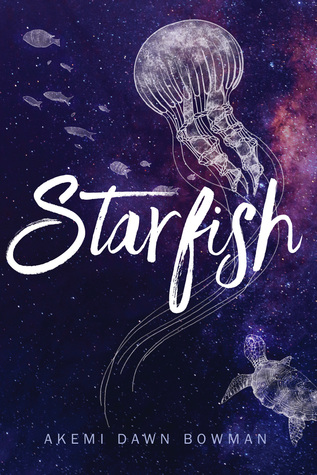 ---
And that's my top 5!
I'm really interested in knowing what books you've bought purely because of the drool-worthy cover, as well as if you enjoyed them. Are any on my list your favourites too?
Let me know!