If you can't tell from the title, this month was coincidentally a huge month for retellings. This wasn't planned at all, but it happened and I'm incredibly happy about it. I've picked up some amazing books whilst also rereading some of my favourites.
Book 1) Bloodleaf by Crystal Smith // 4 STARS
A retelling of 'The Goose Girl', Bloodleaf was everything I expected it to be and also nothing at all.
I've never read The Goose Girl, so I had no idea what the plot would be about and kept expecting her to turn into a goose or something – but I actually ended up really enjoying it.
The writing was lyrical and guided me through the whole 'WHERE IS THE GOOSE? WHY IS SHE A GOOSE?' confusion and convinced me to keep reading.
Blood magic seems to be taking control this year, and I'm both a little terrified and waiting in eager anticipation for more.
Book 2) A Curse So Dark and Lonely by Brigid Kemmerer // 4 STARS
I think every YA blogger has this one on their lists, and this month I flew through the ARC before getting hold of the finished copy in my Fairyloot box. It was an entirely satisfying Beauty and the Beast retelling, but it was also a delicious story in its own rights.
I loved the worldbuilding and the characters, and adored pretty much everything about this one.
My only issue was I left the book not knowing what any of the characters looked like. I genuinely spent an entire book thinking someone who would be just over 20 was 40-50 years old. I'm not sure how I missed the fact that he was young, but I did.
Book 3) Last of Her Name by Jessica Khoury // 5 STARS
This book was way more than I needed it to be. It was everything, the stars alligned with my heart's needs and it was perfect.
Of course, I am always willing to give my love to anything related to Anastasia, and this was no expection. But adorable aliens, spaceships and getting to see the worlds with these characters just made the experience all the more perfect.
Book 4) Hunted by Meagan Spooner // 3.75 STARS
I wasn't going to be picking this one up, but I was on a roll with retellings and I figured why the heck not? I knew I had to read Sherwood by Meagan Spooner as I'd recently recieved a review copy, so I figured that could be the perfect excuse to revisit one of my favorite retellings. It was so nice to be back, wrapped up in the warmth of Meagan's writing and I felt at home. It was a comforting read, if anything. Not perfect, and I didn't enjoy it as much as I did the first time but that doesn't mean I didn't like it. Not by any means. It's possibly just one of those books that can't be experienced as well over and over. Your first time with it is the most special.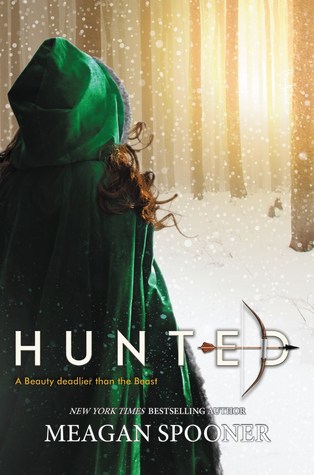 Book 5) Sherwood by Meagan Spooner // 3.75 STARS (sent by Harper360UK in exchange for an honest review)
After adoring Hunted, I dived straight into the book that I should have been reading in the first place (I love procrastinating, please don't hold it against me). I cracked open my review copy and dove straight on in.
This one was a weird one.
I wanted to like it way moer than I did, seeing as I love and trust Meagan and overall there was nothing majorly wrong with it, but it just fell a little flat. To be fair, 3.75 is still a pretty high rating so I'm not hating on it completely – but it just wasn't everything I wanted it to be. Some of the characterization could have been stronger, and there were moments where I'd rather put the book down and do something else – even after reading only a few pages.
I struggled to motivate myself to repeatedly pick it up, and would have rather dedicated and forced myself to do a binge read. But I finished it, and I'm relatively happy with how it turned out.
I think one of my main issues was that I kept comparing it to the Robin Hood TV show that I grew up watching and it was nothing like that at all, but subconciously I wanted it to be as good as that. I wanted more time with Robin, and I wanted Marian not to fall in love.
Book 6) The Boy Who Steals Houses // 5 STARS (sent by Hachette Children's in exchange for an honest review)
My first NOT-retelling of the month, The Boy Who Steals Houses was everything I needed it to be… and more. It was bricks to the foundation of my love for C.G Drews, and I'm glad to say that both of her books have made my top favourite reads ever, despite not necessarily being obsessed with the contemporary genre. But she's perfect, this book was perfect and I wouldn't change a thing.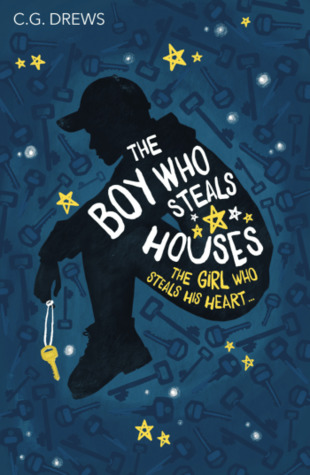 Book 7) The Cold Is In Her Bones by Peternelle Van Arsdale // 4.5 STARS
I fell back into the retelling world with this one. As a new release, I had wanted to get to it since it arrived in stores in January, but just haven't had the chance or the motivation until now. I figured that it was the perfect read to add onto my long list of retellings, and that presented me with the perfect excuse to pick it up.
It wasn't like anything I've ever read before. Admittedly, I've never read any Medusa story apart from the Percy Jackson books – but all the same it was gorgeous. The writing was incredibly sweet and lyrical and if I read it again I feel pretty sure that I want to get the audiobook and see if the narrator does it justice.
Book 8) Geekerella by Ashley Poston
This was another book I 'had' to read, because I received the sequel for review. It just so happens that it's another retelling (I promise I didn't plan all this). Luckily I flew through this one as it is such an easy comforting read, and it didn't take me long to settle back into the world of Starfield and honestly I'm ready to go back already, which is lucky because my next read takes place at the same comic convention as this one!
Book 9) The Princess and The Fangirl // Rating: uwu (sent by Quirk Books in exchange for an honest review)
These two books look gorgeous together on my shelf and it feels my little reader heart with a lot of warmth and happiness to have finally got my hands on this one. I'm a little torn up about it and still feeling uncertain about my rating, but essentially let's sum up some positives and some negatives. Positives: THE COVERS MATCH! THE WORLD IS THE SAME! THE WRITING IS STRONG, RELIABLE AND INTRIGUING! Negatives: I just really didn't connect with the main characters. Not for the first 100 pages anyway, and that's pretty bad. I need so much to relate to the characters, and I was succeeding with a few of them but the main character was such a bee-with-an-itch. I couldn't handle it.
Book 10) We Hunt The Flame by Hafsah Faizal
Naturally, I had to get round to this one at some point this month. I have an ARC and I couldn't resist its tempting pull. I'm so relieved about how this book turned out to be. I would have been so miserable if the hype didn't live up to its name. BUT IT DID! The writing is lyrical and soothing, the world is glorious. I finished the book with some questions (with a capital Q) but that didn't change how much I loved it.
Book 11) Again, But Better by Christine Riccio
Are you proud of me? This is another book that totally isn't a retelling but is an all-around creatively invented time-travel esque book by booktuber Christine. I warn you, it isn't out yet and won't be for a while but I managed to get my claws on an ARC and I was not letting go until I'd leapt straight in.
First of all, I want to make something clear: I didn't hate it. It just felt so… simple? I've always had a hate-hate relationship with present tense writing, and this book just fell a little flat. It was basically a travel novel where every so often Christine didn't really know what she was talking about and I felt like I was reading bullet points from what Sasha Alsberg might have told her. Weird, right?
I'm not sure how much Christine has travelled, but I was being taught things that I really didn't need to know, especially as a UK reader. So much focus was placed on the fact we have pasta in bags and not boxes, which, is interesting enough the first time it's mentioned but by the 5th I'm bored already. And every so often the book goes into literal bullet points/notes rather than writing everything, like the author just got bored and wanted to summarise a whole chapter instead of writing it.
I hope this gets fixed in the finished copy but I don't see that happening. The characters were loveable enough and probably the only reason I kept reading, although some of the names were a bit ridiculous. I mean, in one flat alone we have Pilot, Shane and Babe. Not very common names and that felt a bit unrealistic. Where are my Jacks or James'? Amys and Elizabeths? Every name felt stolen from a 'WEIRDEST LIST OF NAMES POSSIBLE' bible and it just threw me off a lot. They were pretty sweet characters though so I let it slide. Although I'm pretty pissed off with Shane and her ongoing crush on someone who is most definitely taken. This isn't a spoiler, but she just wouldn't settle down and let him be in a relationship. Sure, fancy someone from afar but don't try and change his mind if he's with someone. I can't stand that.
This is turning into a long rant so I'm going to wrap up and pray that the next book I pick up can redeem my love for reading and that I can relax a bit more. I feel like a hissing cat ready to throw a tantrum.