I actually don't know what happened. I made it one week into a February and my book haul was very reasonably sized, with a few purchases and a few trades organised and I was happy. And then I managed to buy more. And more. And more? I mean, it is the month after I got my Christmas overtime pay check so I did actually have moment to splurge for once, but somehow… I splurged a lot more than I meant too. Although, not everything on this haul was bought by myself. There were quite a few gifts and a few review copies arrived so I got lucky that way too. All I know is my haul is bigger than my wrap up and that isn't good. Especially when my goal for the year is to reduce my TBR. OH WELL.
To make writing this more manageable, I've split the books I got into the sections of how I got them. I HOPE YOU ENJOY. Please feel sorry for my bookshelves.
---
Purchases:
People Like Us by Dana Mele
I actually listened to this one on audiobook when it was a shiny new release and really really loved it. I've been meaning for a while to pick up and add the physical copy to my collection, as it was one of those 'changed my mind' on an entire genre kind of books. Because I've this one, I've read a few other similar style books that have ended up being absolute favourites – Sadie and All Your Twisted Secrets. I also want to pick up more from the genre like One of Us Is Lying or A Good Girl's Guide To Murder. These are the sort of books I never expected to want to read, but People Like Us truly changed my expectations for (murder) mysteries.
Starsight by Brandon Sanderson
I had to buy this one, okay?! I made the 'mistake' of picking up Skyward without already owning the sequel and when I was nearing the end I knew I needed to continue onto the next book straight away. So of course I ordered it on one-day delivery and it was the RIGHT DECISION. I didn't want to be like the rest of the fandom who had to wait a long time to pick up the sequel after reading Skyward on release week, I wanted to be prepared for the inevitable cliffhanger I knew was coming. I don't regret waiting for the sequel to release. And I don't regret buying it, I know if I hadn't it would be several years before I picked up Skyward again for a reread, and therefore several years before I got to the sequel. BUT I BOUGHT IT NOW. AND READ IT. ARE YOU PROUD OF ME, MUM?
Queen of Blood by Sarah Beth Durst
This purchase I do actually feel super guilty about. I've owned a copy of this one for a while but it's… a mass market paperback. And I couldn't bring myself to read it purely because of how tight the spine was, how small the writing is and just how much I hate holding really tiny books. So my only option to finally convince myself to read it was… well, order the Hardback of course! My boyfriend gave me the biggest eye roll ever as I removed the mass market paperback off my bookshelves and replaced it with a truly gorgeous, REASONABLY SIZED book instead. Heh.
Heartstopper Volume 3 by Alice Oseman
It should come as no surprise that I bought this one. I'm a huge fan of Alice Oseman's drawing style and although I've read nothing else by her, I will always love Nick and Charlie – the main characters of the Heartstopper graphic novels. I was there for the Kickstarter that helped get this one published, and I will be here until the end.
Ember Queen by Laura Sebastian
I impulse ordered this one after reaching the halfway point of Lady Smoke this month. Luckily I had a few pounds left on an Amazon gift card from when preorders had come down in price since I bought them, so I got this one pretty cheap with very little of my own money added. It was like 62p or something that I put in, and for the enjoyment this book will bring me it was very much worth it.
Ao Haru Ride Volumes 1-8
Now this is obviously where I spent most of my money this month. I bought EIGHT VOLUMES of manga. Technically, I bought 2. And then when I was reading those 2 I ordered the next 3. And then I finished the next 2 and ordered the final lot that are currently published. Although volume 9 is coming out in English next month and number 10 the month after that and 11 the month after that. So I've basically secured a guaranteed purchase every month like a subscription. I HAVE NO REGETS. I was chasing the emotion that Orange and A Silent Voice gave me, and this was a highly recommended one so I caved.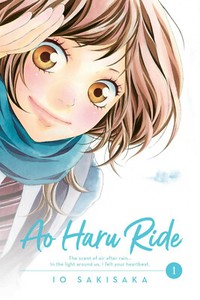 ---
Preorders:
As a preface: yes, I technically bought these, so they count as purchases but I didn't actually pay any of my own money for them. And by that, I mean I ordered them with Christmas gift cards, so thankfully I didn't have to spend any more than I already had to get ahold of these ones.
Yes, No, Maybe So by Becky Albertalli and Aisha Saeed
Of course I had to pick this one up as I'm not insane to missing out on a super cute contemporary by one of my faves and someone I'm very excited to read something from. Plus, the premise of this one sounds ADORABLE and I can't wait to see 2 people falling in love whilst delivering political flyers.
Of Curses and Kisses by Sandhya Menon
You all know this by now: I'm a SUCKER for Beauty & The Beast retellings. So when a popular author decides to write a contemporary one with an Indian princess and the Son of a Duke, of course I threw my money (figuratively) at the counter and demanded I receive my copy immediately. Or, in this case, a month later when it actually released.
The Unspoken Name by A. K. Larkwood
As soon as I heard the word "orcs", I had this one in my basket and preordered. And then I cancelled that preorder and swapped it for a Goldsboro edition instead, which is truly glorious and possibly the prettiest thing I will ever own. I'm a sucker for Dungeons and Dragons and all things orcs, high elves and dwarves. Especially when it's queer. Yep, this one ticked almost every single one of my buzz words, which meant I had to buy it.
Tweet Cute by Emma Lord
I have no excuse for this one other than the fact I loved the idea of a book being written about the kids of two rival pizza companies who are in control of the family business's social media accounts. It sounded like a movie I've watched before (but can't remember the name of) and I always welcome more contemporary to my shelves, especially lately.
---
Audible Preorders:
Don't Read The Comments by Eric Smith
Eric has always been a strong voice in the community and when I heard he was publishing a contemporary romance about a famous 'Twitch' streamer and a very lucky player who accidentally meets his idol, I knew that I had to read it. Not only can I relate very strongly to meeting a partner online (I met my boyfriend of 3 years on Minecraft of all things!) but the long-distant relationships and the special connection of sharing a game you love just appealed to me SO MUCH.
The Gravity of Us by Phil Stamper
Another anticipated release that I couldn't resist preordering, but y'all know I love listening to a good contemporary on my walk to University or bus to work. My travel time adds up to a couple of hours a week and being able to read 2 or so audiobooks per month really helps boost my reading. I didn't know too much about this other than it's queer own-voices and has a famous streamer who's father gets chosen as an Astronaut for a mission to Mars. SOUNDS AWESOME, RIGHT?
The Upside of Falling by Emma Lord
I immediately and ah-ed with pre-ordering this one, since it's available on in full on Wattpad. I decided in the end that I wanted to support the author and figured there would be quite a lot of editing and changes made from the version available online to the one that's been published by Harper Collins.
---
Audible Credit Purchase:
Tiny Pretty Things by Dhonielle Clayton and Sonia Charaipotra
My audible credit came in and this was one of those books I've had on my WL for a while. I was even more interested in reading it due to the weird amount of Dance Moms that's been popping up on my a Facebook feed. I've always been a sucker for dance shows like Next Step or Dance Academy so the story about fighting prima-ballerinas with a little bit of mystery thrown in sounds perfect to my 'I have two left feet so I'll read about dancing instead dance-obsessed heart.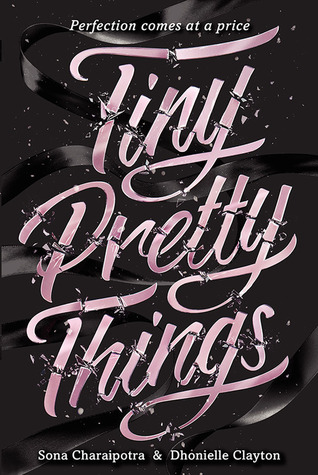 ---
Gifts:
Fate of The Tearling & Invasion of The Tearling by Erika Johansen
My adorable boyfriend treated me to these two new books for a Valentine's Day and seeing his little grin as he handed over the two books that have probably been on my Wishlist for the longest was equally as heart-exploding as actually receiving books from him. He knows me so well and I'm so happy he chose these ones as I've been binging quite a few trilogies lately, so I'll get to these pretty soon.
Where Dreams Descend by Janella Angeles
Sometimes in life your path crosses with the sweetest, most genuine kind of people – and Yara from http://www.travelingthroughthepages.com is one of those people. I can't even remember exactly what we were talking about but suddenly she was offering me her spare copy of Where Dreams Descend – a book that doesn't come out for several months still. My eyes swell up just thinking of her generosity and I cried when I opened the parcel. Thank you Yara for being so amazing and treating me for no reason what so ever! I love you!
Harley In The Sky by Akemi Dawn Bowman
This was a gift from my best bookish friend, Aurora, who I've been trying to get to read Akemi's other books, due to them being two of my highest rated contemporaries… ever. And mostly just because they both succeeded at making me cry. AND I LOVE TO CRY AT BOOKS. She got sent this one by the publisher and I mentioned how excited I was to read it in passing and she immediately said she'd pass it on for me to read and review instead! I didn't deserve her generosity and I don't deserve her amazing friendship, but I am so so grateful for this book. And, spoiler alert, I've already read it and it was amazing.
Slammed by Colleen Hoover
Jenn from https://www.jenniely.com was doing a Day of Kindness giveaway and she randomly chose this one from my Amazon WL after I mentioned I was having a bad week (mostly my fault, I wasn't sleeping well and managed to have an argument with a lot of different people in my life. It's all sorted now though!). It really cheered me up and pulled me out of my miserable slump and helped turn my week around. It came at exactly the right time and I'm really super thankful and incredibly excited to read my 3rd Co-Ho book.
---
ARC Trades:
A Song of Wraiths and Ruin by Roseanne A Brown
I know very little about the storyline for this one. All I know is it's a YA fantasy with a gorgeous cover and I'm a sucker for trading for upcoming releases. It's like an addiction. But this one does look super cute on my shelves!
Belle Revolte by Lindsey Miller
I've heard plenty of good things about this one – and have you seen that cover? This one is about revolution and I'm pretty sure it's gotta be set in France, based off the title. That's all I need to know.
Find Me Their Bones by Sara Wolf
One of my reads of 2018 was 'Bring Me Their Hearts' and I've been looking for the ARC for the second one so I could have matching editions that are the same size. The paperback versions are slightly smaller so even though Find Me released last year, I've been searching for a trade for it since. My copy finally arrived and I'm very excited to do a reread of the first one!
Queen of Coin and Whispers by Helen Corcoran
This one I meant to send a request in for but I completely forgot and just never got round to it. When I saw a friend had put it up for trade, I snatched up the offer and proudly added this one to my collection. It's a women loves women fantasy that's releasing next month, where the Queen hires an assassin to find her father's killer. But they end up falling in love. Not her fathers killer, but the assassin. Unless the assassin is the killer, in which case that would be a killer plot twist and now I'm going to have to pick this one up STRAIGHT away to find out if my my theory is correct.
Between Burning Worlds by Jessica Brody and Joanne Rendell
This is the sequel to my 2nd favourite book of last year so you can imagine how desperately I've been wanting an ARC of the sequel. I put out a plea to the universe and it answered. AND NOW IT'S MINE. If you don't know already, Sky Without Stars is a Les Miserables retelling set in SPACE. It's dark, delicious and as majestic as the heavens. I'm a little intimidated about reading this one in case it doesn't meet my expectations, but I trust this author duo. There's no way they could take everything they've built up in terms of the world and the characters and the tension and ruin it. Like, the hard work they've done already would be impossible to ruin in my mind. This one is gonna be a 5 star read, I just feel it.
The Winter's Duke by Claire Elizabeth Barlett
This one and the next book arrived today, as I'm writing this humongous post. I wanted the ARC of this one to match my copy of We Rule The Night but I got super lucky getting ahold of one before it's technically released. I was content to wait until it had been out a while and people were more willing to let go of their ARC, instead of holding onto it due to it being an unpicking release. (No shade, I'm the same). BUT I HAVE IT. AND IT'S GORGEOUS. AND I'M READY TO EXPERIENCE ALL THE FEELS.
The Vanishing Deep by Astrid Scholte
Astrid Scholte is one of my most memorable authors because of two things. One, her Four Dead Queen's book was the reason I met my bookish best friend. Second, she's Australian so I'm hoping that I'll get to meet her at a signing at some point when I move to Aus in a years time. I'd love the chance to meet her, so when I saw an ARC of her upcoming one up for trade I knew I had to organise something for it so I could add this one to my soon-to-be-signed collection.
---
Review Copies:
These last 3 are more of an honorary mention as I don't really know much about them and for the first two they were sent to me unsolicited, and I hadn't heard of them before. I'm always happy to accept review copies from my selected genres though and they definitely seem like books I'd want to read. I'm not going to look into the plots too much nor talk about them that much as hopefully you'll get a full review for all of them soon. The 3 I got are: Love Is For Losers, The Rules of Being A Girl & A Queen In Hiding (which was sent to me from the publisher after I won a giveaway). As ever, thank you to the publishers for feeding my book addiction!
---