Happy April Fools!
I've been thinking about an interesting post I could write that could relate to this friendly day, and I figured – why not talk about the books that gave me a total plot twist surprise when I actually liked them?
Therefore, I'll be discussing 5 books that are out of my usual YA genres that I totally ended up loving… Much to my amazement.
Stalking Jack The Ripper by Kerry Maniscalco

I never expected to like this book, and especially not as much as I did. I thought it'd be something I would grab purely due to the hype, confirm that it wasn't my kind of read and then pass it on to a friend more into the dark and creepy. In reality, my trip into a different genre was quite an enjoyable one.
Wolf by Wolf by Ryan Graudin
I've pretty much hated every historical fiction novel I've ever read. Kiersten White's 'And I Darken' is just one example of many, a single book I wanted to love but just didn't. Wolf by Wolf, however? Blew me out of the water. It may have been the magical elements, or the gloriously perfect writing – but Ryan will have my trust forever.
Ruby Red by Kerstin Gier
Another historical fiction, another expected DNF – but one that I actually finished. And enjoyed. Again, it had magical elements so that might have been its saving grace for me, but either way I'm happy to add this one to my 'loved' list. I still haven't picked up the sequels, and maybe I'll change my mind as I make my way through them.
Magonia by Maria Dahvana Headley
As I said when I'd finished this book in 2016 and as I'll repeat now: this is possibly the weirdest thing I've read… ever. Nothing is as it seems and I would like to step into Maria's brain for just one day. It'd be more entertaining than anything I can come up with, and more entertaining than watching movie after movie at a cinema. As a magical-realism, I would usually steer away from this book, but after getting it as a gift I figured I'd give it a go. Yes, it was as weird as all magical-realisms are. Maybe more so. Yes, I loved it.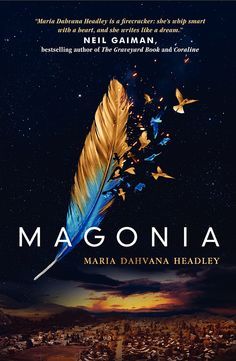 Passanger by Alexandra Bracken
I picked this one up purely because of the author. For anyone who doesn't know, Alexandra wrote The Darkest Minds series and I wanted to give her writing another chance to steal my heart. This book succeeded more than TDM, despite not being in my genre. Pirates can be a hit or miss for me, and I usually get pretty bored if a book purely takes place on the high seas- I mean, there's only so much "I looked out at the dark grey and stormy water" that I can take. This was nothing like that. This was… deliciously perfect.
---
Now I've discussed the 5 books I wasn't expecting to enjoy as much as I did, I'm curious: have you read any of these? What were your thoughts?
(Especially on Magonia, because I need someone to confirm that I'm not going crazy and the fact that I still remember how vibrant and vivid everything was 3 years after reading the book is a good thing.)